The
OBSERV 520x
is the latest skin analysing system for beauty therapists and skin treatment professionals. With new optimum face positioning and 5 angle imaging, the 520X is the next generation of the OBSERV® family of skin diagnostic devices. In conjunction with a thorough consultation, the OBSERV® will become a valuable clinical tool that assists not only skin condition analysis, but used for initial evaluations and monitoring of treatment progress. The interactive analysis proccess helps you communicate your findings, present evidence of anomalous conditions, and plan a treatment strategy.
Meet the OBSERV® 520x here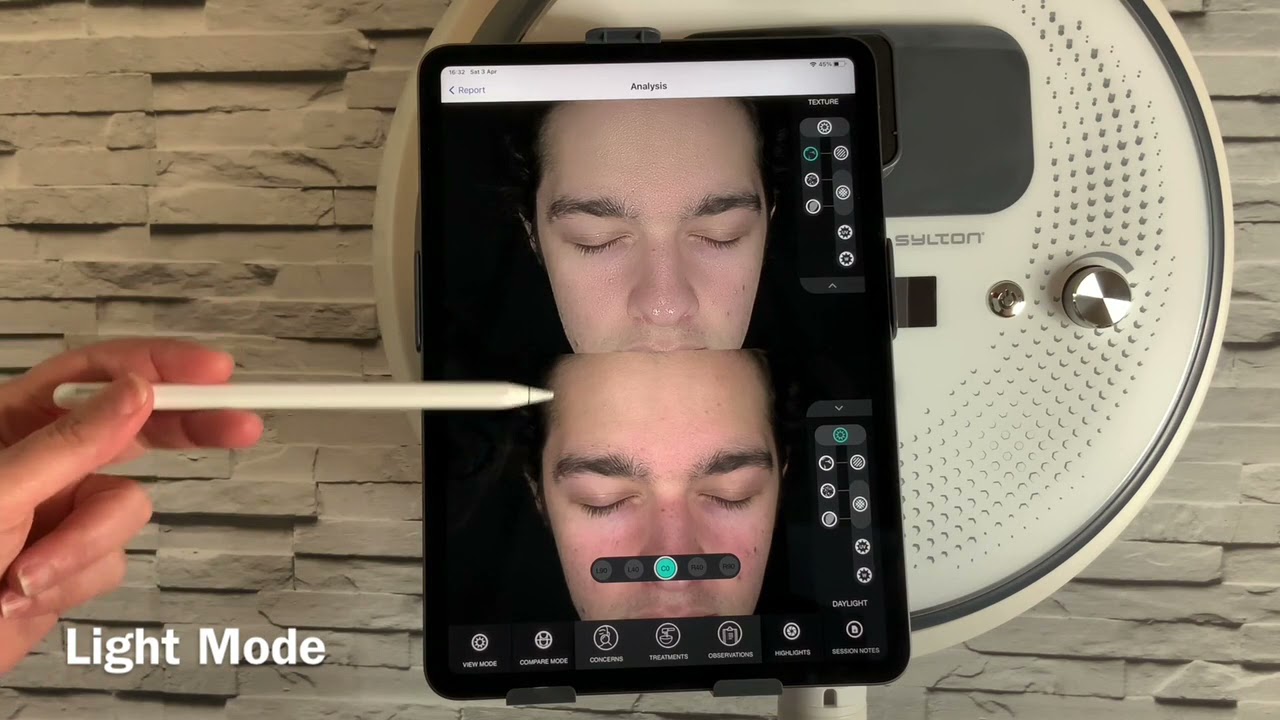 One of the many training videos for your new OBSERV® 520x
8 Observation Modes
1. Daylight
– the skin as seen in a controlled, natural daylight environment
2. Surface Texture
– reveals the skin's textural topography
3. Pigmentation
– illustrates common skin tone irregularities such as sun damage, pigmentation, melasma and general colour variations
4. Redness
– illustrates the network of microvascular structures in the skin that lead to redness and visible facial flushing
5. Parallel Polarised
– an enhanced view of the skin's surface, fine lines, micro-relief, wrinkles, texture and pores
6. Cross Polarised
– suppresses surface shine for an unobstructed view of dermal structures, vascular conditions, inflammation and pigmentation
Dynamic Reporting
Create elaborate, shareable reports
Compare Function
Compare different light modes
FaceNotes 2.0
Add notes and markings to the images
Before and After Comparison
Compare images taken before and after
treatments to show improvements,
set new goals and share results.
Use Observ 520x to take your client on a journey to discover their skin profile and visualise the characteristics in the various layers of their skin.
Use the most powerful skin consultation
tool available to clearly diagnose and solve
your customers specific skin concerns
Demonstrate expertise and credibility by creating effective treatment plans that help your clients and allows you to cross-sell your products, aided by the clear pictures you've taken.
Your Observ 520x Package contains*:
• The Observ 520x device
• The latest technology, including our patented 'Face Positioning System' for reproducible before and after pictures
• A universal iPad visor
• The Observ® travel bag
• A practical quick reference guide for most common skin concerns
• A skin condition guide for advanced practitioners • Valuable smooth set-up instructions
*The package content may vary, depending on your country of residence.
We are pleased to announce that Sylton, the creator of the OBSERV 520 X in The Netherlands , has launched their OBSERV 520 X Cloud storage service entitled -Sylton Safe.
When OBSERV 520 X clinics update the app on their iPad, they will see the pop-up screen with the notification that they can claim their
free
300GB Sylton Safe cloud storage.
This new 2021 service will offer our clinics lots of benefits, including:
• Unlimited secure storage and back-up in the cloud;
• Automatic synchronisation to all connected devices;
• Easy data sharing between Observ users within the same clinic;
• GDPR compliant data storage
Your own OBSERV is just one phone call away: